St. James' at Home
Leading the Way in Online Learning
When the COVID-19 crisis hit, St. James' faculty and administration rolled up their sleeves, ready to ensure that our students continued to receive a stellar, robust and joyful education -- even if they could not be on campus. At the core of our remote learning program, St. James' at Home, is the philosophy that each day, every child must be seen and heard and that connectivity and engagement is essential. Thus, St. James' at home includes:
Regular office hours for 1:1 appointments with students and families
Student-centered curriculum to ensure that children are engaged and learning how to collaborate with each other
An expanded use of chapel, talent shows, clubs and other venues for students to demonstrate their engagement and understanding with key skill and content accrual
Regular written communication with families so that parents and guardians may support learning fully at home
The commitment of the school to ensure that all children have access to technology to engage with the remote program.
In addition to the above, the school embraces the philosophy that student academic success and confidence is grounded in large part on healthful socio-emotional experiences. St. James' uses the Yale-based RULER program to support students to express themselves fully and to value their feelings. We believe that feelings are never wrong and that children should always be encouraged to express whatever they are feeling. See more on the RULER program below.
An integral part of successful student learning is schedule. Conscious of screen time and of the science behind student engagement, the school designed a learning program with classes from 9:30-2:30 with an hour break for lunch, with the opportunity to continue with clubs and our Beyond School! curriculum from 2:30-5:30 each day. Within the preschool, the learning program is from 10:00 - 2:30, with opportunities for Beyond School! from 2:30-4:30.
St. James' values the diversity of our family's stories and appreciates that many of our parents and guardians cannot provide daily support for remote learning. Our program may be accessed both synchronously and asynchronously. This past spring, students as far away as Seoul, Korea were participating in synchronous and asynchronous learning!
Our program would not be successful without the careful stewardship of our faculty. We are a growth-minded school, and the entire family body was encouraged to read Carol Dweck's Mindset in the 2018-2019 school year.
Each morning, time is scheduled for faculty to lean into growth mindedness and take part in conversations to refine and bolster curriculum, either through guest speakers, the school's Curriculum Committee which reviews academic scope and sequence, or grade level team planning. A vital part of this time is for teachers to check in with individual students and families for engagement and understanding of the program.
Along those lines, the Head of School sponsors family coffees each week to hear from families and answer questions. Over the spring and early summer, we also heard from child and adolescent psychologists about managing student anxiety during the pandemic; pediatricians about techniques to encourage children to wear masks; from prominent local physicians on staying safe during this time and from one of the country's leading experts on testing and contact tracing for the virus.
Mr. Reinke addresses students at the monthly Community Gathering with his favorite children's book "Sit-In" on Read Across America Day.
Preschool St. James' at Home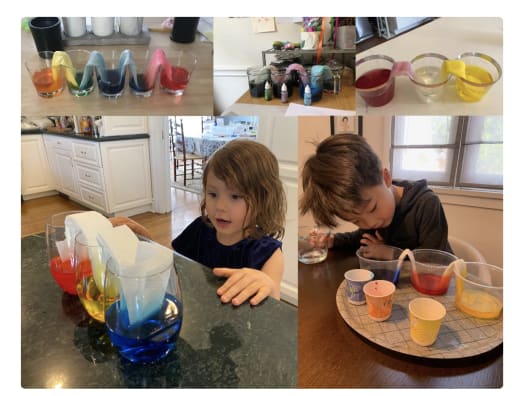 Preschoolers Share the Results of Their At-Home Science Project
Remote learning is challenging for very young students, but our preschool faculty is up to the task. Building on the philosophy and practices shared above, at the preschool, teachers work to ensure that a child's experience is individuated, affirming and engaging. As we continue to grow the program, we are very excited that we have added puppeteering, and daily classes on science, visual arts, performing arts, Spanish and Yoga to the program. Hooray for our youngest Huskies!
Kindergarten to 6th Grade St. James' at Home
Sixth Grade Students Learn Collaboratively with Their Teacher
Our K-6 remote program provides additional academic coaching in Kinder-grade 3 to support students who need a more differentiated program, either through accelerated or scaffolded learning. Throughout the K-6 experience, our rigorous core academic program leads to outstanding placement for middle school.
We also use student clubs and Beyond School! in these grades to inculcate in our students a lifelong love of learning, offering courses ranging from Latin to Korean, from dance to studying the Gettysburg Address and puppeteering and preparing for the ISEE for middle school placement. Students of all ages can participate in the school's newspaper/podcasting program, The Husky Howl, take robotics and coding and engage in leadership through the All-School student senate and the boy scouts and the girl scouts.
The Spoon on the Nose Trick Helps Illustrate the Gospel Lesson

Spiritual Life - Virtual Chapel
St. James' at Home
St. James' is an Episcopal school at heart, founded by the late Father D'Amico, then rector of St. James' Episcopal Church, in the late 1960s in response to the social injustice and socio-economic disparity he saw in the world. Since this time, weekly chapel has always been a key part of our curriculum and allows time to check in with children and families, and provide time for self-reflection and learning through the homily, typically delivered by the rector, the chaplain or the Head of School -- but frequently from faculty and parents and from prominent leaders from other religions.
One of our favorite traditions is the birthday blessing wherein students who are celebrating a birthday are blessed and share what they are grateful for -- and importantly their favorite birthday dessert.
Our virtual chapels look a lot like our in-person chapels -- with birthday blessings provided by video! On average, our virtual chapel has over 200 guests in attendance -- during the 2020-21 school year, chapels will alternate between remote chapel and in-person chapel, divided up by individual classes for physical distancing purposes.
Community is Essential to Us
St. James' at Home
Community is essential to St. James' -- it is who we are. As Mr. Reinke frequently shares with children and families -- "this world is complicated - but beautiful." We fundamentally believe that children must be taught to joyfully tackle and interact with the challenges in the world around them, and our service-learning program is built to do just that. All of our grades have a service-learning curriculum built into the program, primarily supporting the parish food ministries, which on a weekly basis, provides meals to almost 200 unhoused and hungry clients. During remote learning this past spring, the community came together to raise over $5,000 in the first-ever remote community concert, with students, alumni, past parents and current parents and faculty. These funds have been vital to the parish as it continues its efforts to support the hungry and unhoused. In addition, the sixth grade class decided to make a gift to the parish food ministries in lieu of a gift to the school at the urging of Mr. Reinke and the school faculty.
Our family community continued to flourish during the spring -- the Head of School sponsored several coffees a week for families with a number of guest speakers and our Parent Association continued to tirelessly support St. James' during this time as they are up to the challenge to continue to design virtual and physically distant family programming in the fall. We are particularly grateful to all of our families who worked to make the first-ever remote St. James' gala such a success in late June!
A Young Pianist Performs at the Virtual Talent Show
The RULER Program
What Role Do Emotions Play in Learning?
RULER is a Yale-based program that trains faculty in socio-emotional intelligence. Since 2018, St. James' has worked to train all employees in RULER. RULER helps educators create a mindset around the vital role that emotions play in our lives, and provides them with techniques and strategies to design socio-emotionally safe spaces for children within the classroom or learning space.
Whether virtual or in-person, St. James' teachers recognize that frequently a student may need help recognizing an emotion or experience that is distracting them from learning. With this training, teachers are equipped to coach a student to have voice and confidence and affirmation to express themselves and reframe that particular moment or day with a different outlook.
Students Engage In An Online Lesson